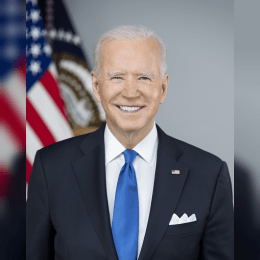 Joe Biden
American politician who is the 46th and current president of the United States Website
Reviews 12
by

newrateitall970

Fri Jul 07 2023

by

canadasucks

Thu Oct 23 2008

. . .not nearly as polarizing as prince Dumbo or the Hillanator. . .although now those who claim that ol' Joe is oh-so-polarizing seem strange in light of Biden's career in both domestic and international affiars, working with his own and the other party, and often getting crushed in presidential primaries due to more charismatic candidates.  He was chosen for the very reason that hounds the repub. vp choice- he's smart and qualified.  And his mistakes ("three letter word - J. O. B. S.") are quite hilarious as well.  But polarizing?  As of a few months ago, how could he be considered high on this list?

by

louiethe20th

Sat Oct 25 2008

He comes from the slave state of Delaware. He said Obama was a good looking guy and that he was "clean." Are you kidding me? What if McCain said he was clean? Then there was the time he told a wheelchair bound man, "stand up Charlie!" More of a moron than polarizing! As you have noticed they have pretty much kept a muzzle Michelle and Joe.

by

numbah16tdhaha

Thu Oct 23 2008

So... there is going to be a crisis and we will look wrong. Damn is that encouraging...

Polarizing? They've buried the guy! At the beginning of Obama's Presidency, they deployed him out to sell the stimulus program, despite the fact that he was never a budget or economics guy in Congress, and since then, he hasn't been seen much. Obama has essentially marginalized him. With Hillary controlling foreign policy (Biden's area of expertise), he's a man out of work. Obama picked Biden because he's an old white guy with experience in foreign policy. Like when Bush picked Cheney to be his Vice President, Obama went with Biden to calm people's nerves about his lack of experience in international affairs and national security. Despite a few verbal gaffes, he hasn't done much in the way of damage, nor has he contributed much to the policy-making process. My guess is that he won't be running on the Democratic ticket again in 2012. The way this White House is set up, he doesn't serve any particular function, nor does he bring with him electoral balance.

by

carrollcountyk_id

Thu Jul 21 2011

I like him. He has made a lot of money for me. During the winter I sometimes haul trash and garbage for the town of Concord to the town dump. I get paid by the load. Every time Biden ran for something up here in New Hampshire, his headquarters always had more trash and garbage than anybody else. Sometimes I got overtime to haul all the Biden trash.Is he going to run again? Has anybody heard?

by

eschewobfuscat_ion

Thu Oct 23 2008

This liberal empty suit could gather 3% of democrats to vote for him.  In how many primaries has he run?  But, he's somehow qualified to be president, a heartbeat away?  Based on what?  He's got lots of experience being wrong about stuff, but if he has lots of experience and he comes up wrong about everything, does that qualify him to be president?  To advise the messiah?  Wait, let's ask Keith Olberman.

Joe Biden's hair plugs are pretty polarizing.

Obama could have picked Elmer Fudd as his VP and still would have won. Thats about how I feel about Biden. Every time he opens his mouth, you never know what hes gonna say. Its funny.

by

tjefferson_liv_es

Thu Oct 23 2008

On the pending international crisis - My vote is present - Barack Hussein Obama  Update Joe the Plumber is polling at 25%

I guess Biden should be investigated by the Intelligence Agencies regarding his statements about a "generated" crisis that would test the next President. Does he know anything about it? If so, what does he know? where the crisis will come from?

by

lorifreakinlor_i

Sat Oct 25 2008

Joe biden is the penultimate washington insider! He plays the aw shucks I'm just a common guy routine as poorly as his running mate Obama. While his many verbal gaffs are entertaining they are also disturbing since it makes one wonder how so unintellectually gifted an individual could EVER have held higher office in this great and glorious country.